The Top 10 Places to Live in Malibu
Posted by J.D. Songstad on Thursday, October 19, 2023 at 11:38:36 AM
By J.D. Songstad / October 19, 2023
Comment

Where Is the Best Place to Live in Malibu?
"27 miles of breathtaking scenery." That's Malibu.
If you're wondering about where to live in Malibu, and want to learn more about the most desirable Malibu neighborhoods, our top-rated local real estate agents have compiled this post just for you.
View All Homes for Sale in Malibu
Boasting stunning white sandy beaches, luxurious oceanfront homes perched amid the crashing waves, lavish mansions in the hills, and swaying palm trees that create a perpetual vacation atmosphere for its residents, Malibu is one of the most exclusive enclaves of Los Angeles County.
Let's take an in-depth look at some of the best neighborhoods in Malibu.
Our Top 10 Malibu Neighborhoods & Communities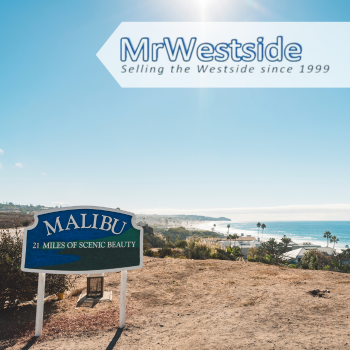 In comparison to many other coastal towns in California, Malibu is often seen as a tranquil and serene place to call home, surpassing even Santa Monica, just a short distance to the south.
The Pacific Coast Highway offers picturesque drives along the coast, and whether you're commuting or looking to explore neighboring communities for dining, shopping, or entertainment, you're just moments away from a plethora of nearby amenities and attractions - in addition to the one-of-a-kind lifestyle.
Considering Where to Live in Malibu? Here Are Our Top Picks
Malibu Beach
Looking for iconic Malibu? Malibu Colony is it.
A picturesque oceanfront gated community gracing the stunning shoreline of Malibu Beach, Malibu Colony is a secluded enclave boasting some of the most extravagant homes in the area, offering a tranquil and exclusive atmosphere. Malibu Colony sits to the south of Malibu Road, just a stone's throw from the Pacific Coast Highway.
Nestled in the heart of Malibu, near the Civic Center, Malibu Colony affords easy access to the town's finest dining establishments, cultural delights, and recreational activities. It stands as a superb choice for those seeking a life of luxury and upscale convenience. The area is also home to several world-class art galleries, such as the Malibu Lumber Yard, which showcases contemporary art, and the Getty Villa, which features an extensive collection of ancient Greek and Roman art.
Living in Malibu Colony is a truly exceptional experience. This top-rated Malibu neighborhood boasts stunning gated estates that overlook private beachfront, secluded lagoons, and breathtaking vistas, including the famous Queen's Necklace, the nickname for the stretch of coastline between Malibu and Rancho Palos Verdes.
Offering everything from classic Malibu style to one-of-a-kind architectural delight, Malibu Colony embodies the essence of classic Malibu living: a perfect blend of luxury, exclusivity, and natural beauty. Ranging from charming bungalows to expansive mansions, there's a diverse array of homes in Malibu Colony, each showcasing superb craftsmanship and unobstructed Pacific Ocean views. To ensure the utmost privacy, Malibu Colony provides 24-hour guard-gated security for its residents.
If you need a break from world-class shopping and dining, the Santa Monica Mountains and its many hiking trails plus the multiple surf breaks of Surfrider Beach, offer endless amounts of adventure and outdoor recreation.
Shoreline at Carbon Beach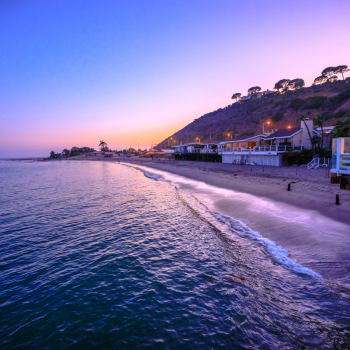 Known as "Billionaire's Beach," Carbon Beach stands out as one of the places to live in Malibu. With only 70 lots in the area, these are some of the priciest homes on the planet, with prices spanning from approximately $10 million to over $100 million. And it's no wonder, with the beach out front, and the picturesque view of the renowned Malibu pier right out the back door.
Homes here are striking, with architecture evocative of contemporary Spanish Revival, representing the epitome of home design marvels that exemplify the community's affluence. Each residence showcases stunning views of the Pacific Ocean that will quite literally take your breath away.
Malibu has an eclectic, vivacious food scene, and living on Carbon Beach comes with a bonus – a wealth of dining choices right at your doorstep. You'll find top-notch eateries just a stone's throw away, such as the renowned Malibu Farm Restaurant & Bar and Nobu Malibu. These gems not only serve up delectable dishes but also treat you to mesmerizing ocean vistas, creating truly memorable dining adventures.
Malibu Road
Malibu Road lies next to Malibu Colony, situated on a strip of real estate between the PCH and the Pacific Ocean. Affectionately referred to as "the Old Road" by long-time locals, it's a beautiful place with a long row of fancy beachfront houses conveniently located in close proximity to the Malibu Country Mart, which you can easily get to on foot or bicycle.
With roughly 300 homes along this historic road, living here means you get to enjoy the luxury of being right by the Malibu coast, but just a short drive away from the Pacific Coast Highway (PCH). Most of the homes here are two stories, facing the ocean in different styles, like modern, Cape Cod, Mediterranean, and contemporary architecture.
Aside from the oceanfront homes, there are also houses on the other side of Malibu Road, these are usually two stories as well but sit on larger pieces of land - with some boasting between 1.25 and 4 acres of land. On the northern end of Malibu Road, you will find Malibu's beach-fancy apartment buildings and condos. This is where the limited Malibu rental market is focused.
Malibu Drive is also adjacent to the world-famous Surfrider Beach and many other of California's best surf breaks, making it an excellent choice for millionaire surfers.
Point Dume
When surfers consider where to live in Malibu, Point Dume is another hot spot for surfing enthusiasts and nature lovers. This extraordinary neighborhood offers a unique blend of luxurious beachfront living and a relaxed coastal vibe. Nestled between the Pacific Ocean and the Santa Monica Mountains, this area provides a lifestyle as lovely as the breathtaking nature that surrounds it.
Point Dume sits at the far west end of Santa Monica Bay, known for its stunning views of the ocean, expansive beaches, and luxurious homes. If you're a fan of surfing, you'll be thrilled with the various surf spots, ranging from Paradise Cove to Zumirez, Little Dume, all the way to Westward, and PDS Beach. Point Dume is a surfer's paradise!
But that's not all; it's also a popular place for outdoor activities such as hiking and rock climbing. Conveniently, it's right by Point Dume Market, so you can easily access your favorite local restaurants and grocery stores.
Point Dume is also home to various well-respected schools. One standout school is the Point Dume Marine Science Elementary School, which stands out for its dedication to delivering top-notch education that centers around environmental studies and marine science, making learning exciting and informative. Additionally, Malibu High School and Malibu Elementary are both located on Point Dume.
Eastern Malibu/La Costa Beach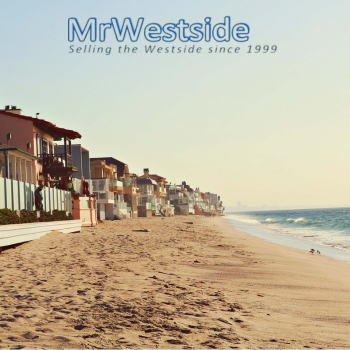 La Costa Beach is on Malibu's eastern side, boasting luxurious beachfront homes, and charming hillside houses, with top-notch shopping and dining options close by. These houses all have access to the exclusive La Costa Beach Club, a private beachfront area.
Situated just a bit down the coast from the center of Malibu and the famous Malibu Pier, La Costa Beach enjoys a prime location that's close to the heart of Malibu with convenient access to both the city amenities and the serene, private ambiance of a beach-centric oasis. Nestled between the Santa Monica Mountains and the beach, there is no shortage of fun things to do outside. You can go hiking, climb on rocks, ride bikes in the mountains, go horseback riding, surf, paddleboard, or even try kayaking - all on the same day!
Santa Monica-Malibu Unified School District is widely known for its excellent schools. In the La Costa area, you'll find Webster Elementary, Under the Oaks Malibu Preschool, and Pepperdine University nearby.
Broad Beach
Broad Beach is famous for its fancy homes and quiet coastal charm, a stunning and secluded beachfront enclave showcasing an idyllic setting between the Pacific Ocean and the Santa Monica Mountains. Situated at the far end of Zuma Beach, this is another of Malbu's neighborhoods highly sought after by surfers and outdoor enthusiasts.
As a quiet, relatively remote Malibu neighborhood, Broad Beach is characterized by its peaceful vibes, privacy, and stunning ocean vistas. You'll find a mix of homes, from cozy beach cottages to sleek, modern mansions, each with its unique architectural charm. If you're looking for the ultimate Southern California beach lifestyle, Broad Beach has it in droves.
The Malibu Trancas Market, located nearby, offers high-end shopping, dining options, and a variety of local places to visit and enjoy cultural events and live music. For a perfect evening, consider visiting the Paradise Cove Pier. It's an excellent spot for dinner, taking beach strolls, and watching beautiful sunsets. If you're into outdoor activities, the Santa Monica Mountains provide extensive hiking and biking trails for nature lovers.
To the west, you'll find Victoria Point, where you can explore tidepools when the tide is low. Directly adjacent to Victoria Point, is Trancas Point, one of the best surf breaks in Malibu.
Serra Retreat
The Serra Retreat neighborhood is often called a haven by residents, offering a unique and peaceful experience compared to the rest of Malibu. The heart of this neighborhood is the Serra Retreat Center, which brings everyone together while still valuing people's need for privacy. Serra Retreat isn't your typical Malibu scene, it's a serene, wooded canyon that's just right for folks who enjoy a quieter, countryside life that is all about peace and seclusion.
A real escape from the hustle and bustle of LA, this part of Malibu offers homes on about 96 separate plots of land. These plots vary in size from one and a half to four acres, with most houses discreetly tucked away in Serra Canyon, ensuring a very private atmosphere. Homes here showcase stunning early Californian architecture and Spanish-style houses. The Serra Retreat community is exceptionally private and can be reached through two gated and guarded roads. Residents cherish their peaceful haven and hope their neighbors do the same.
Shopping and dining options are close by, including the Malibu Lumberyard, Malibu Village, and Malibu Country Mart. Residents of Serra Retreat enjoy easy access to some of Malibu's most famous beaches, with Surfrider Beach, the Malibu Lagoon, and Malibu Pier just a stone's throw away across PCH.
Zuma Canyon
Zuma Canyon, located north of the Pacific Coast Highway by Zuma Beach, is a well-known neighborhood surrounded by lush, tropical scenery. The houses in this area often stay hidden behind grand gated entrances, ensuring an extra level of privacy.
It is exactly because of this secluded atmosphere that this Malibu neighborhood is a favored place for celebrities and public figures to call home. Homes vary in size in this charming hillside community, with the smallest ones measuring roughly 1,500+ sq ft, and the largest sprawling over 7,000+ sq ft. The average home measures around 3,200 square feet, with five bedrooms and six bathrooms.
Paradise Cove
Bet you didn't think Malibu has a mobile home park.
This exclusive beachfront community is not just any mobile home park; it's a hidden gem! Perched on a cliff overlooking the magnificent Pacific Ocean, Paradise Cove offers winding pathways leading down to the sandy shore.
Paradise Cove is like a little piece of classic Malibu with its cozy, small-town atmosphere. It's a place where people come together, and it's known for its laid-back lifestyle. You'll find charming homes along streets perfect for golf carts. There are tennis courts, a wooded park, and a special clubhouse just for the people who live here to use for private parties and special events.
Residents also enjoy direct access to the beach. With the panoramic views of Point Dume, Paradise Cove is perfect if you dream of a luxurious life in a gated community by the beach. It's also more affordable than other places to live in Malibu.
And the best part?
You're just a short walk or a fun golf cart ride away from the renowned Paradise Cove Beach Cafe. It's a slice of paradise right here in Malibu!
Malibu Park
Nestled in the hills overlooking Zuma Beach, you'll discover the Malibu Park neighborhood. With incredible views of both the ocean and mountains, among generous land plots, with plenty of places to walk around – even more than most of Malibu - it's a fantastic community blending the classic charm of old Malibu with the modern vibes of new Malibu.
The juxtaposition of rural ambiance and modern convenience, where horses and chickens coexist with grand estates boasting breathtaking ocean views, makes this neighborhood one of the most unique in all of Malibu.
Homes here vary in size and style, ranging from charming single-story ranch houses to stunning modern amenity-rich designs. The spacious lots provide a sense of seclusion in one of Malibu's most relaxed and peaceful areas. Situated directly adjacent to the Santa Monica Mountains Recreation Area, residents can explore these trails on foot, by mountain bike, or even on horseback.
Don't you wish you went to Malibu High School?
Located in Malibu Park, MHS boasts vast athletic fields and a sprawling campus, complete with ocean views, making it an excellent educational opportunity for students. MHS is a comprehensive high school, grades nine through twelve, that provides its students with a world-class, twenty-first-century education.
Malibu Schools
Schools in Malibu belong to the Santa Monica-Malibu Unified School District. The entire Malibu community takes pride in its top-notch educational system, which includes outstanding schools like Malibu High School, Pepperdine University, Malibu Elementary, and Webster Elementary School.
Talk With a Top-Rated Malibu Real Estate Agent
Malibu is a place where most people own their homes. In this area, you can find many grand mansions perched on cliffs and nestled in the hills, offering stunning views of the ocean and breathtaking sunsets. While many of these Malibu luxury homes are quite large, featuring private pools, in-house movie theaters, gated entrances, and ocean vistas, there are also smaller single-family houses and a few condos available for less than $1 million.
If you're in the market for bigger homes and mansions in the hills with panoramic ocean views, be prepared to spend tens of millions of dollars.
View All Homes for Sale in Malibu
View All Homes for Sale in Malibu
Google Reviews
⭐⭐⭐⭐⭐ "JD was terrific. He listened carefully to what we said and did extra research to help us try to find the particular amenities we were looking for in a certain radius. He is detail-oriented and always on the job. He managed to help us locate and buy a house in a very short time with no hitches. His many years of experience show." - Linda Layneon Google
⭐⭐⭐⭐⭐ "So glad I worked with JD! He is professional, available, knows and understands the market and took the time to reach all my requests. If feel very confident I will work with JD again and recommend using him for your next business or personal property transaction!" - Pini Ravitz on Google
⭐⭐⭐⭐⭐ "JD Songstad is one of the best realtors I have encountered while helping us buy our home. He is very talented with sharp eye for details. He is as honest as it could be. He is sharp and very capable. We are glad that after he helped my brother buy one of his properties, my brother introduced us to him and it was an enjoyable experience. He took us by hand till we closed on our house. Along the journey he was not shy to tell us what property is not fit for us after he very carefully listened to our needs, I have no hesitation to recommend him. He is the best and we are lucky to have him help us. He never was tired or busy. Always with big smile" - Henry Malek on Google