The Best Places to Live in Mar Vista
Posted by J.D. Songstad on Monday, September 25, 2023 at 5:11 PM
By J.D. Songstad / September 25, 2023
Comment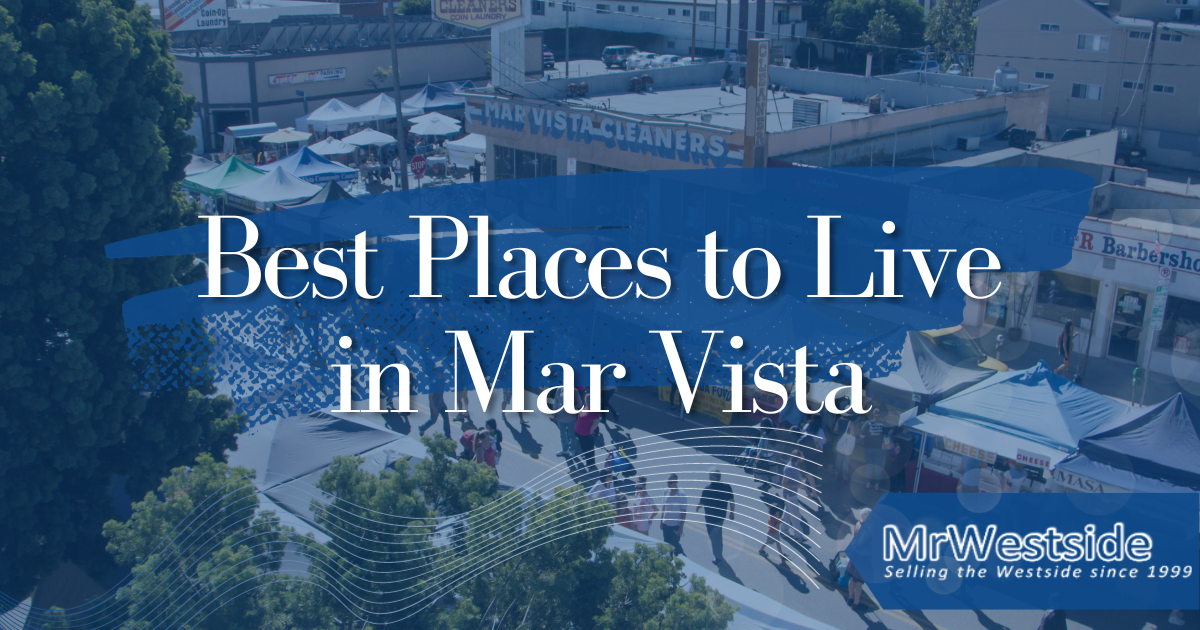 Where to Live in Mar Vista, CA: The Insider's Guide
Mar Vista is situated on the Westside of Los Angeles, nestled between the vibrant areas of Venice and Culver City. The area boasts a unique blend of serenity and vitality, where even longtime residents might need a maps app to precisely define the borders of Mar Vista.
According to the Mapping L.A. project of the Los Angeles Times, Mar Vista's boundaries are: the San Diego Freeway to the Culver City boundary at Venice Boulevard on the northeast, the Culver City line on the southeast, Walgrove Avenue on the southwest and the Santa Monica city boundary on the northwest. 90066 and 90034 are the Mar Vista zip codes.
View All Homes for Sale in Mar Vista, CA
Mar Vista's geographical boundaries encompass Venice to the west, while to the east lie West Los Angeles, Westwood, and Rancho Park. Moving northward, it shares its border with Santa Monica and Sawtelle, while to the south, it meets Del Rey and Culver City.
Table of Contents
Mar Vista Neighborhoods
The Mar Vista neighborhood has found favor among students and young families who relish its relaxed ambiance and the geographic buffer it provides from the bustling scenes found in other parts of West LA.
Known as a tranquil, residential enclave with convenient access to the extensive network of surface streets and freeways of West Los Angeles, and close proximity to UCLA, Mar Vista is considered one of the best neighborhoods on the Westside.
Parks and Recreation
Although the Westside boasts a greater abundance of parkland compared to LA's Eastside, green spaces remain somewhat limited. Nevertheless, Mar Vista residents enjoy access to one of the area's most expansive recreational parks, perfect for activities like jogging, sports, or leisurely dog walks.
Mar Vista Park stands is the neighborhood's most renowned green space, a recreational haven shared by neighboring communities. This dynamic park offers a number of athletic facilities, including a community center, swimming pool, baseball field, soccer pitch, volleyball court, hockey rink, basketball court, and a versatile multipurpose field. Residents can take advantage of its various amenities, such as winding jogging trails, picnic spots, playgrounds, and outdoor barbecue areas.
Families in the vicinity also enjoy the park's family-friendly features, which include an onsite preschool and a summertime camp catering to kids and toddlers.
The Best Place to Live in Mar Vista, CA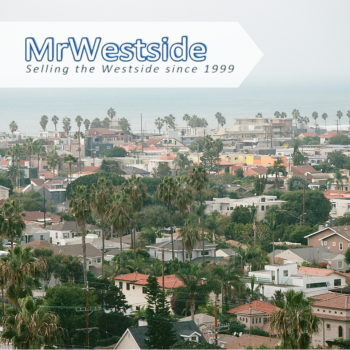 Living in Mar Vista provides a unique blend of history, community spirit, and modern amenities, making it an appealing choice for those seeking a quintessential Southern California lifestyle.
Among the mid-century architecture, you'll find charming streets shaded by lush trees and graceful palm fronds, occasionally graced by the refreshing sea breeze wafting in from Venice Beach, which is just straight down the road. Despite being part of the bustling city of Los Angeles, Mar Vista maintains a tight-knit atmosphere, offering a unique sense of community and neighborhood charm not so common in other areas of Los Angeles.
Residents often describe it as a friendly and welcoming place where people know their neighbors. The community hosts various events and gatherings, fostering a strong sense of belonging. Similar to many Westside neighborhoods in Los Angeles, Mar Vista has been witnessing significant transformations in recent years.
The emergence of Silicon Beach, fueled by the tech industry, has led to a wave of changes in Mar Vista. This influx of technology has given rise to a multitude of new dining establishments, shops, residential complexes, and unique boutiques that have sprouted across the neighborhood.
The Best Neighborhoods in Mar Vista, California
Prior to the more recent Silicon Beach-inspired transformation, Mar Vista underwent significant transformation during the mid-20th century, mainly from the 1950s through the 1970s, resulting in a fascinating blend of architectural styles.
The northern part of Mar Vista, particularly along Beethoven, Meier, and Moore streets, saw a surge in suburban single-family housing being built. You will still find many well-preserved examples of mid-century modern residential architecture that are indicative of the area. These structures tell the story of Mar Vista's evolution, from basic, affordable housing to highly sought-after, historically significant residences.
Both residents and visitors savor the advantages of a thriving community, with an abundance of dining and shopping opportunities to explore. Nestled primarily along Venice Boulevard, adjacent to Centinela Avenue, Mar Vista enjoys its close proximity to the beach and easy access to the bustling downtown areas of Santa Monica and Culver City, which are home to a wide array of job opportunities, entertainment, and dining options. This proximity makes Mar Vista an ideal choice for those who want to enjoy the benefits of city life while residing in a quieter, more residential setting.
Mar Vista Real Estate and Property Values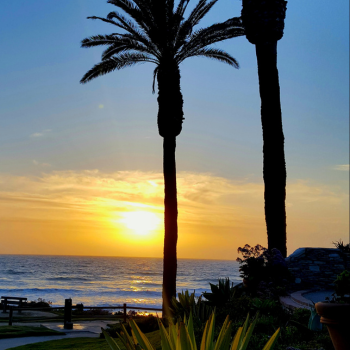 The real estate market in Mar Vista has seen substantial appreciation over the years. What was once an area of modest, low-cost homes in a relatively distant part of Los Angeles has transformed into valuable properties. It's not uncommon for older homes, often marketed as tear-downs, to sell for well over a million dollars.
This increase in property values underscores the neighborhood's desirability and its status as an attractive place to live.
Diverse Lifestyle Options
Mar Vista caters to a diverse range of lifestyles, given its close proximity to the trendy college hubs of Sawtelle and Palms, Mar Vista emerges as a top choice for millennials. But whether you're a young professional seeking urban amenities, a family looking for a safe and family-friendly environment, or a retiree seeking a peaceful yet vibrant community, Mar Vista has something to offer.
Parks, schools, shops, and restaurants are all part of the tapestry of daily life in this neighborhood, ensuring that residents have a variety of options to suit their preferences.
Mar Vista Schools
Mar Vista schools are part of Los Angeles Unified School District. There are eight elementary schools, three middle schools, and one high school - which is technically in Venice. In addition, there are four charter schools, two private schools, and seven preschools/day care centers at the time of publishing this post.
Public Elementary Schools
Beethoven Elementary: 3711 Beethoven Street, Los Angeles, CA 90066
Braddock Elementary: 4711 Inglewood Blvd., Culver City, CA 90230
Grand View Blvd. Elementary: 3951 Grand View Blvd., Los Angeles, CA 90066
Mar Vista Elementary: 3330 Granville Ave., Los Angeles, CA 90066
Richland Ave. Elementary: 11562 Richland Ave., Los Angeles, CA 90064
Short Ave. Elementary: 12814 Maxella Ave., Los Angeles, CA 90066
Stoner Ave. Elementary: 117355 Braddock Drive, Los Angeles, CA 90066
Walgrove Elementary: 1630 Walgrove Ave., Los Angeles, CA 90066
Public Middle Schools
Daniel Webster Middle School: 11330 Graham Place, Los Angeles, CA 90064
Marina del Rey Middle School: 12500 Braddock Drive, Los Angeles, CA 90066
Mark Twain Middle School: 2224 Walgrove Ave., Los Angeles, CA 90066
Public High School
Venice High School: 13000 Venice Blvd., Los Angeles, CA 90066
Charter Schools
Citizens of the World Charter School: 11561 Gateway Blvd., Los Angeles, CA 90064
Ocean Charter School: 12606 Culver Blvd., Los Angeles, CA 90066 Goethe
International Charter School: 12500 Braddock Drive, Los Angeles, CA 90066
Magnolia Science Academy 4: Venice 11330 Graham Place, Los Angeles, CA 90064
Private Schools
Windward School: 11350 Palms Blvd., Los Angeles, CA 90066
Wildwood School: 12201 Washington Place, Los Angeles, CA 90066
Preschools and Daycare Centers in Mar Vista
A Kids Place: 12306 Venice Blvd., Los Angeles, CA 90066
Building Blocks Christian Academy: 3734 S. Centinela Ave, Los Angeles, CA 90066
DIG Childhood Center: 3840 Grand View Blvd., Los Angeles, CA 90066
Kinder Circle Preschool: 11827 Venice Blvd., Los Angeles, CA 90066
Lily Pad Preschool: 12958 Short Avenue, Los Angeles, CA 90066
Mar Vista Montessori: 3865 Grand View Blvd., Los Angeles, CA 90066
New School West: 12731 Venice Blvd., Los Angeles, CA 90066
Talk With a Top-Rated Real Estate Agent in Mar Vista, CA
Mar Vista boasts a peaceful and welcoming atmosphere, excellent pedestrian accessibility, convenient proximity to dining and facilities, and numerous entertainment choices. It's no wonder that Mar Vista stands out as a top-notch residential destination in Los Angeles.
We encourage you to contact us today to arrange a discovery tour of the neighborhood and the wide variety of properties currently on the market.
Our top-rated local real estate agent, JD Songstad is thrilled to serve as your tour guide in the world of Mar Vista real estate. We look forward to assisting you in making a choice that harmonizes perfectly with your home-buying aspirations and tastes.
Search Active Homes for Sale in Mar Vista, CA
View All Homes for Sale in Mar Vista
Google Reviews
⭐⭐⭐⭐⭐ "JD was terrific. He listened carefully to what we said and did extra research to help us try to find the particular amenities we were looking for in a certain radius. He is detail-oriented and always on the job. He managed to help us locate and buy a house in a very short time with no hitches. His many years of experience show." - Linda Layneon Google
⭐⭐⭐⭐⭐ "So glad I worked with JD! He is professional, available, knows and understands the market and took the time to reach all my requests. If feel very confident I will work with JD again and recommend using him for your next business or personal property transaction!" - Pini Ravitz on Google
⭐⭐⭐⭐⭐ "JD Songstad is one of the best realtors I have encountered while helping us buy our home. He is very talented with sharp eye for details. He is as honest as it could be. He is sharp and very capable. We are glad that after he helped my brother buy one of his properties, my brother introduced us to him and it was an enjoyable experience. He took us by hand till we closed on our house. Along the journey he was not shy to tell us what property is not fit for us after he very carefully listened to our needs, I have no hesitation to recommend him. He is the best and we are lucky to have him help us. He never was tired or busy. Always with big smile" - Henry Malek on Google