Top 9 Best Places to Live in Venice, CA
Posted by J.D. Songstad on Thursday, May 18, 2023 at 9:32:28 AM
By J.D. Songstad / May 18, 2023
Comment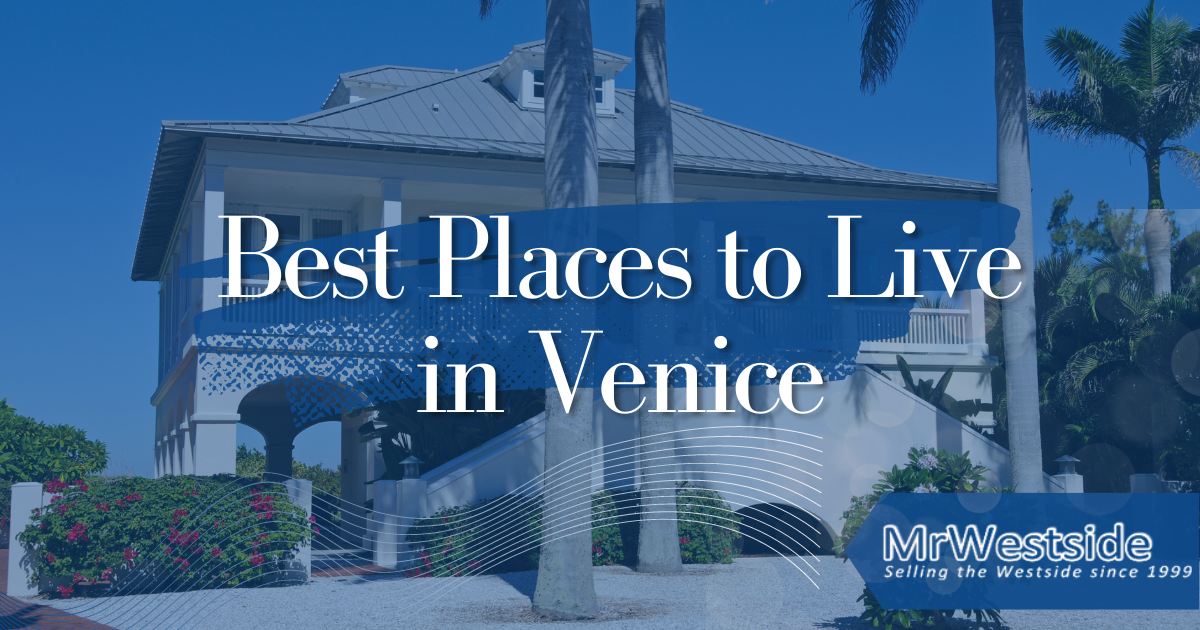 What Are the Best Places to Live in Venice, CA?
Venice is a neighborhood of Los Angeles within the Westside region of LA County. Founded in 1905 by Abbot Kinney, as a seaside resort town, Venice was an independent city until 1926, when it was annexed by Los Angeles.
Considered by locals & visitors as one of the most vibrant neighborhoods in Los Angeles, Venice attracts culture-loving beachgoers who enjoy the burgeoning art & food scene, along with the entrepreneurial flair and fun-loving vibe.
Widely known for its canals, beach, and Ocean Front Walk, Venice lends itself to a diverse community of Angelenos. With vibrant sections catering to young singles seeking buzzy urban environs, to more tranquil modern homes along tree-lined residential streets welcoming families desiring a more suburban lifestyle, Venice has it all.
There's no shortage of things to do around Venice Beach, including shopping, dining, nightlife, parks, and more. We invite you to learn more about the area and see where our top-rated Venice real estate agents rank as the best places to live in Venice, California.
Then search all current listings of homes for sale in Venice to find your next dream home!
The Best Neighborhoods in Venice, CA
"Edgy, artsy, stylish, and a little bit odd—welcome to L.A.'s out-there beach town."
- Visit California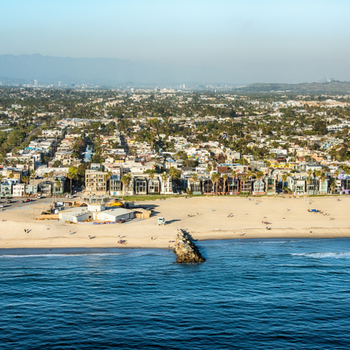 Venice residents love the bohemian beach vibe of the area combined with the access to jobs, entertainment, and outdoor recreation opportunities, along with all of the modern conveniences offered in greater Los Angeles.
While many residents tend to be on the younger, professional side of life, the area is incredibly diverse, with many families looking for convenient suburban neighborhoods in close proximity to traditional amenities and top-rated schools.
Before considering a move to Venice, we encourage you to go there, walk around, and experience everything the area has to offer.
So if you're searching for the best place to live in Venice, CA, the vibe of different Venice neighborhoods, or where to live in Venice, here are several of the most desirable areas according to our local team of real estate professionals.
Venice Canals
Formally known as the Venice Canal Historic District, Venice Canals is widely considered a hidden gem of the area. Exploring this serene and scenic area of LA is truly captivating.
From the instant you set foot in it, you'll feel transported to a charming European town with houses showcasing meticulously tended flower gardens aside quaint arched bridges, along with small boats and dinghies moored along the waterways, adding to the enchanting ambiance of the area.
Venice Canals offers everything from an eclectic mixture of beach homes, alongside European-inspired villas, to classic California Craftsman architecture.
The old-world seaside canals of Venice California offer both distinction and energy, tourists and locals, a truly one-of-a-kind neighborhood.
Browse active listings and search current Venice Canals homes for sale.
East of Lincoln
East of Lincoln refers to the neighborhood in the eastern section of Venice, stretching from Lincoln Boulevard to Walgrove Avenue.
Venice's "East of Lincoln" section is primarily residential, offering home buyers a variety of architectural styles, including 1920s California and Spanish bungalows, postwar bungalows, and 1950s ranch-style houses. The majority of properties are single-family homes that are predominantly owner-occupied.
There have been significant remodeling, additions, and new construction projects in the area, but due to the neighborhood zoning designation of R-1, only single-family homes are permitted to be built, with one unit intended per lot.
This makes East of Lincoln a great choice for families and individuals wanting more suburban surroundings without the beachside buzz.
Located along the northern part of the neighborhood are Penmar Park and Golf Course. In addition to the public golf course, the park features tennis courts, ball fields, and a community center.
East of Lincoln homes for sale in this area generally have decent-sized lots, with larger 1/4-acre lots available on several streets.
Milwood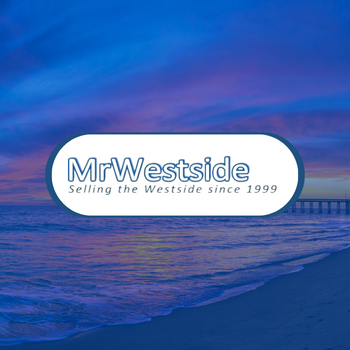 The Milwood region is a polygon-shaped section comprising areas located west of Abbot Kinney Boulevard on the south, California Avenue on the west, Lincoln Boulevard to the northeast, and Venice Boulevard bordering on the southeast.
Milwood is considered an enchanting neighborhood among locals and real estate agents alike. The area is home to four "walk streets" that, when combined, span just 10 blocks, making it a smaller, tight-knit yet welcoming area, highly desirable among young creatives. The "drive streets" in the area possess the same allure, boasting larger lots where many homes feature separate studios or alley houses.
While the neighborhood showcases excellent contemporary architecture, the primary focus lies in the restoration and expansion of the charming 1920s California bungalows, staying true to their original style.
Lush garden ambiance permeates every corner, creating a serene and visually appealing environment. Milwood residents take great pride in their homes and properties.
The lots along the walk streets are typically smaller than the drive street lots. Due to the R-2 zoning designation of Milwood, the possibility of constructing two units on one lot is one many residents have taken advantage of, particularly following the Covid-19 pandemic.
R-2 zoning regulations permit two units on 5,000 square feet of lots. As a result, there is virtually no vacant land in the area, but plenty of Milwood homes for sale.
North of Rose
To the north of Rose Avenue, hence the name, you'll find a diverse range of housing options.
Ten years ago, Rose was "kitschy at best and dumpy at worst," according to the LA Business Journal.
Where Rose Avenue meets the beach you'll find all the stalwart icons like the renowned Venice Beach Boardwalk, the Venice Beach Skate Park to the south, along with Muscle Beach, and Venice Pier, with Santa Monica Beach further north.
From charming Spanish cottages built in the late 1920s to postwar duplexes, most North of Rose homes for sale offer a more eclectic, cosmopolitan vibe due to the new influx of tech companies and the business mixed with the residential layout.
Oakwood
Often considered by locals as the most distinctive and contrasting area, the rich heritage of Oakwood has played a vital role in shaping the social history and distinct character of Venice itself, contributing to its current status as a thriving creative enclave.
This rich history encompasses elements such as property ownership, community bonds, family ties, and the enterprising spirit that characterized early Los Angeles.
Over the last couple of decades, the area has realized a money influx and a building boom. You'll notice many of the newer Oakwood homes for sale are primarily larger, architectural-type homes. But that doesn't prevent home buyers from finding the quintessential California beach bungalow in Oakwood either, hence the contrasting, distinctive nature of the area.
Presidents' Row
According to Realtor.com, the median listing price for President's Row homes for sale was $2M in April 2023, trending up 2.9% year-over-year (YoY). The median listing home price per square foot was $1K.
With three public schools in the walkable, bike-friendly area, President's Row is another section of Venice popular with parents and families. As such, the area boasts numerous grocery stores, an abundance of cafes and restaurants, lending to a more trendy, up-and-coming vibe.
Just a short bike ride from the Marina, President's Row is located east of Abbot Kinney, between Washington and Venice Boulevard. President's Row is said to be named after two famous Presidents of America, with Washington Blvd to the South, Lincoln Blvd East, encompassed by Abbot Kinney to the west & Coeur D'Alene to the north.
The Presidents Streets, located in the southern section, are mainly composed of postwar 1940s bungalows. Further north, the homes become older 1920s California bungalows.
The neighborhood's allure is further enhanced by some narrow one-way streets. If you take a stroll along Harding Avenue, you may come across a few large and elegant turn-of-the-century homes built on 1/4-acre lots. Numerous homeowners in the region have renovated and expanded their homes, adding to the area's appeal.
Another popular neighborhood among both young families and longtime area residents, Preseident's Row offers everything from quaint and chic to elegant and refined.
Silver Triangle
The Silver Triangle is a quiet, residential neighborhood east of the Venice Canals. With most lots in the R-1 zoning classification, the Silver Triangle consists primarily of owner-occupied, single-family homes.
Along Abbot Kinney and Ocean Avenue there are a number of investment properties and newer more contemporary homes offering a modern contrast to the original 2-3 bedroom postwar California beach bungalows built in the late 1940s to early 1950s that predominate the area.
Unique to the Silver Triangle area, is the large condominium complex constructed in the early 1980s. Del Rey Colony is a self-contained townhome community surrounded by a man-made lake, offering those looking for a condo opportunity to invest or live in the area. Search Silver Triangle homes for sale now.
Venice Beach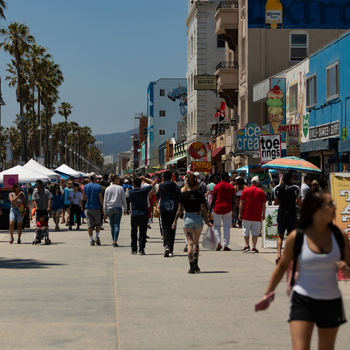 Ocean Front Walk, the showcase of the Beach neighborhood is a two-and-a-half-mile pedestrian promenade that features street performers, fortune-tellers, local vendors, artists, and attractions of all kinds. The beach neighborhood runs the length of the beach and extends eastward two blocks.
The famous Venice Beach Boardwalk is home to the iconic Muscle Beach, highlighting an area that draws visitors from all over the world. If you're seeking a more tranquil experience, you'll probably want to look for a Venice Beach home for sale in one of the previously mentioned more residential-zoned neighborhoods.
Located just a stone's throw away from Ocean Front Walk is a captivating neighborhood adorned with picturesque walkways and roads, stretching only a block or two before veering away from the beach. These streets are adorned with Venice's original homes from the early 1900s, some of which have been lovingly restored, while others eagerly await much-needed updates, offering an opportunity for investment.
Multiple-family dwellings are abundant, mostly comprising two to three units each, with an array of contemporary new homes scattered throughout the area. The North Beach section offers higher-density housing, with a handful of 20 to 30-unit dwellings, all lacking parking facilities.
Abbot Kinney is a popular destination for fantastic shopping, dining, and nightlife with a mile-long stretch of posh galleries and boho-chic boutiques selling furnishings and fashions.
Windward Circle
To the north of Venice Blvd and abutting the beach neighborhood, is the small residential section of Windward Circle, named after the traffic circle where Windward Avenue meets Main Street.
Considered the East Village section of Venice, Windward Circle showcases an eclectic, avant-garde atmosphere with an urban flair.
During the early 1900s, the Windward Circle area served as the original city "center," complete with a water plunge and roller coaster. Numerous streets located to the east of the circle were initially constructed as canals, and have since been paved over.
The city of Los Angeles decided to fill in its canals to make way for the growing presence of motor vehicles at the time. Despite this transformation, the area has managed to retain a significant amount of its original charm from the 1910s and 1920s, with a number of the area's original homes having been meticulously restored, adding to the Windward Circle area's allure.
We invite you to browse current listings and learn more about this section of Venice. Today's Windward Circle homes for sale range from beachy California classic cottages to ultra-modern duplexes.
Cost of Living in Venice, California
According to the Economic Research Institute, Venice, California is ranked eighth most expensive out of four hundred forty-nine cities they've ranked in the state.
The ERI data puts Venice at 87% more expensive than the national average and 37% more expensive than the average city in California. These calculations are based on a yearly salary of $72,000 and the assumption of living in a 2-bedroom apartment. Food, transportation, housing, and healthcare costs in Venice are all less affordable compared to the average costs in the United States.
Dwellics reports that 36% of the population own their homes, while approximately 64.% of residents are renters. The average cost of a single-family home in Venice, California in 2022 is $2,044,549 which is among the highest in the United States and California.
Venice Area Schools
Schools in Venice, California are in the Los Angeles School District.
Primary or Elementary Schools (K-5)
Broadway Elementary School
Coeur D'alene Avenue Elementary School
Westminster Avenue Elementary School
Middle Schools/Junior High Schools
Acton Academy Venice Beach
Mark Twain Middle School
Coeur d'Alene Avenue School
High Schools
Venice Senior High
Animo Venice Charter High School
Are you considering moving to Venice, CA?
Whether you're in the market for a home in the beach neighborhood, a swanky duplex in Windward Circle, or prefer the quiet residential charm of Silver Triangle, our local real estate professionals will help you find exactly what you're looking for in & around the Venice area.
View All Homes for Sale in Venice, CA
Browse All Current Venice Homes for Sale
Google Reviews
⭐⭐⭐⭐⭐ "JD was terrific. He listened carefully to what we said and did extra research to help us try to find the particular amenities we were looking for in a certain radius. He is detail-oriented and always on the job. He managed to help us locate and buy a house in a very short time with no hitches. His many years of experience show." - Linda Layneon Google
⭐⭐⭐⭐⭐ "So glad I worked with JD! He is professional, available, knows and understands the market and took the time to reach all my requests. If feel very confident I will work with JD again and recommend using him for your next business or personal property transaction!" - Pini Ravitz on Google
⭐⭐⭐⭐⭐ "JD Songstad is one of the best realtors I have encountered while helping us buy our home. He is very talented with sharp eye for details. He is as honest as it could be. He is sharp and very capable. We are glad that after he helped my brother buy one of his properties, my brother introduced us to him and it was an enjoyable experience. He took us by hand till we closed on our house. Along the journey he was not shy to tell us what property is not fit for us after he very carefully listened to our needs, I have no hesitation to recommend him. He is the best and we are lucky to have him help us. He never was tired or busy. Always with big smile" - Henry Malek on Google