Why Are They Hiding Important Information That Could Cost You Thousands?
Posted by J.D. Songstad on Friday, September 14, 2018 at 11:25 AM
By J.D. Songstad / September 14, 2018
Comment
Searching for the accuracy of a Zestimate is nearly impossible if you don't know where to look and here's why…
Knowing the average inaccuracy of the Zestimates in your area can greatly impact your decision on whether or not to trust that number. People have become so accustomed to trusting online home valuations because they don't know where else to go.
According to a recent case, the company's controversial "Zestimate" tool repeatedly undervalued a woman's home, making her home sell slower than she would like. This is not the only case of this type of inaccuracy happening. Read more about what this woman had to say about "Zestimates" here:
Zillow faces lawsuit over 'Zestimate' tool that calculates a house's worth
Should obtain "the consent of the homeowner" before posting them online for everyone to see... READ MORE
So why is this woman's case important? A number as small as 10% inaccuracy works out to be $100,000. This isn't a small sum we are talking about here, it's a $100,000 difference in your largest financial asset. As you can see below the averages across the country are spread out amount 4% to as high as 7.3% in Tennessee. This information could be the deciding factor between selling your home or waiting.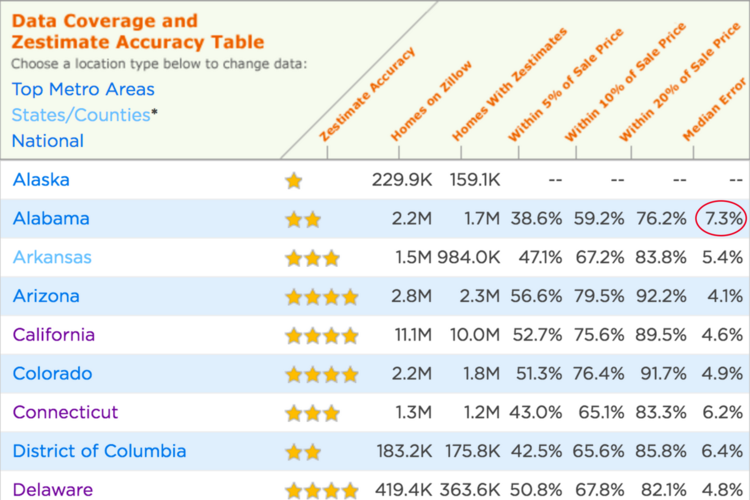 Zillow doesn't make it easy to track down "Zestimates" on their website. Sure you can easily get a "Zestimate" by clicking the box right in the middle of the home screen, but what if you had a question or wanted to learn more. This is where it gets tricky.
One statistic that is overlooked by many homeowners is that the accuracy of the Zestimates in their specific area can be drastically different than the national average.
When you visit Zillow.com ALL the way at the bottom is the small tab "Zestimates". Here you will find a bunch of FAQs about Zestimates and hyperlocal information that you've probably never seen before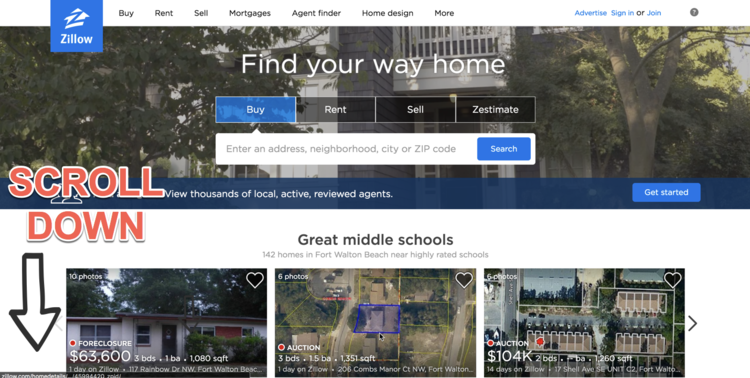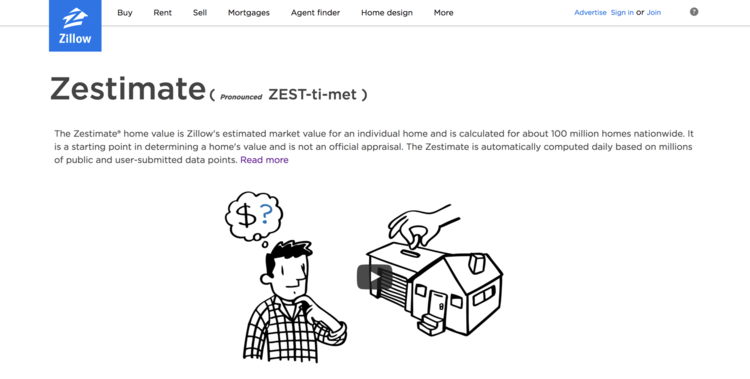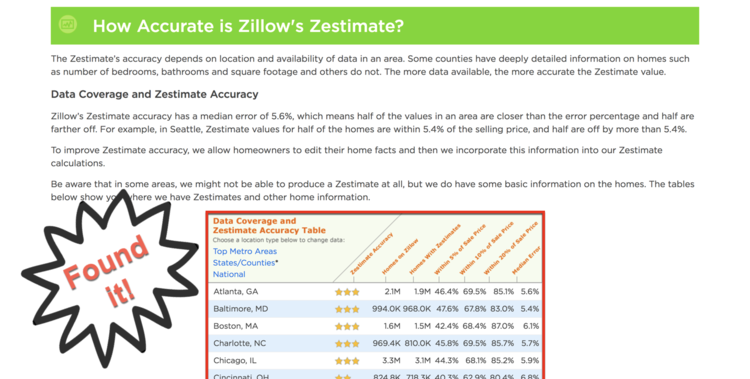 Most recently Zillow has placed themselves in the news leaning on outside data scientists, engineers and visionaries to help out with their Zestimate Algorithm.
Zillow Prize will award $1M for improving Zestimate READ MORE
This is a big red flag. Not only does this tell the public that Zillow is unhappy with how their Zestimate Home Value tool performs, but that they believe other teams can do a better job then they can.
At the moment, Zillow has announced that they are rewarding a team $1,000,000 for drastically improving the Zestimate.
As a proud member of the Los Angeles Westside community who actually lives here, works here and sells homes here,
I would be happy to send you a free report of exactly what your home is worth.
Technology is awesome, but when it comes to the value of your largest financial asset, the accuracy of your home's value matters.