Selling Your Home on the Westside? Marketing Matters!
WHEN YOU'RE READY TO SELL YOUR HOME, MAKE SURE YOU HIRE A REALTOR WITH A SPECTACULAR MARKETING STRATEGY!
Over the past 5 years, we averaged selling our listings for 103.78% of the asking price. Our average time on the market before going under contract is 13 days.
Sellers are in constant competition in the fierce real estate market on the Westside of Los Angeles.
We are 100% dedicated to selling YOUR HOME for top dollar!
Want to learn more about how we can help you sell your home? Give us a call today at 424-404-8480
How we do it
LISTING OPTIMIZATION ON ZILLOW (THE PUBLIC ACCESS HOME SEARCH SITE WITH THE MOST TRAFFIC)
One of our recent listings topped the search results for both Venice and 90291. Our optimization techniques result in your home appearing at (or near) the top of the search results & receiving 2.5 - 10 times more traffic than similar competing listings!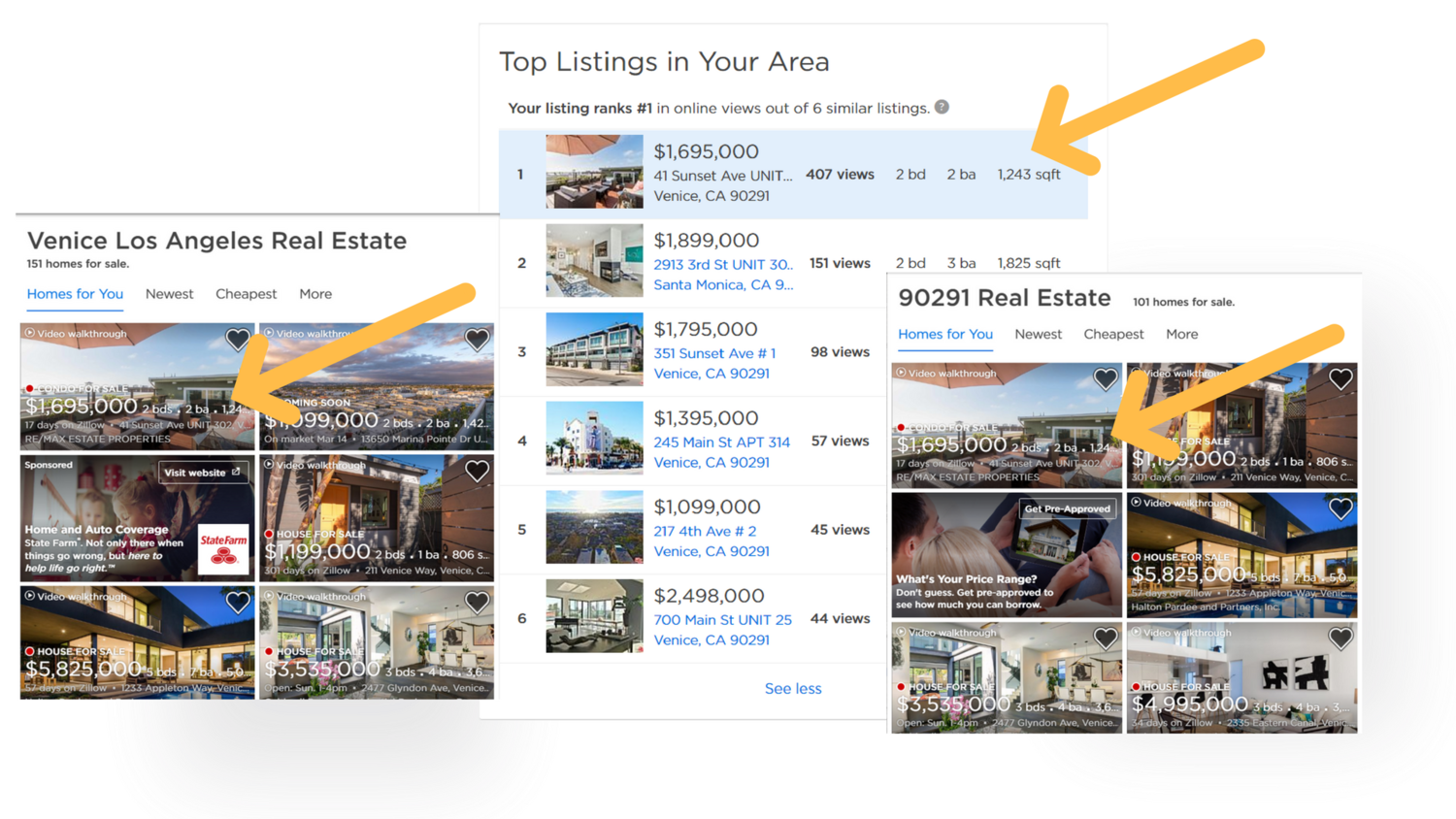 AN ENTICING LISTING DESCRIPTION
THIS GORGEOUS NYC-STYLE PENTHOUSE COULD BE YOURS!
NYC Style Penthouse Loft on a very desirable North Venice walk street. Condo features 2 br, 2 ba + loft, and a private roof deck with breathtaking views in all directions: ocean, mountains & city lights! The spacious roof deck measures 16 1/2' x 33' and is perfect for entertaining or relaxing while enjoying the ocean breeze & taking in the sunset! City views all the way to Downtown LA & the Hollywood Sign on a clear day. Located just ½ block from Venice Beach. 2-story living room w/17' ceiling, loads of light, a cement-faced fireplace, and large sliding glass doors that open to a balcony with peek-a-boo ocean views. Master suite offers 2 walk-in closets & a spa tub. Both bathrooms were just completely remodeled. Open kitchen with stainless steel appliances. Only 1 common wall! Polished concrete floors. Inside laundry. Built-in Speakers inside & out. Unlike anything else on the market in Venice or Santa Monica – don't miss out! Only 1/2 block from a beach volleyball court & the Marvin Braude bike trail that goes along the beach. Walk Score of 91 & bike score of 96! Located in the heart of Silicon Beach, just 3 blocks from Abbot Kinney, Main Street & Rose Ave.
PROFESSIONAL PHOTOGRAPHY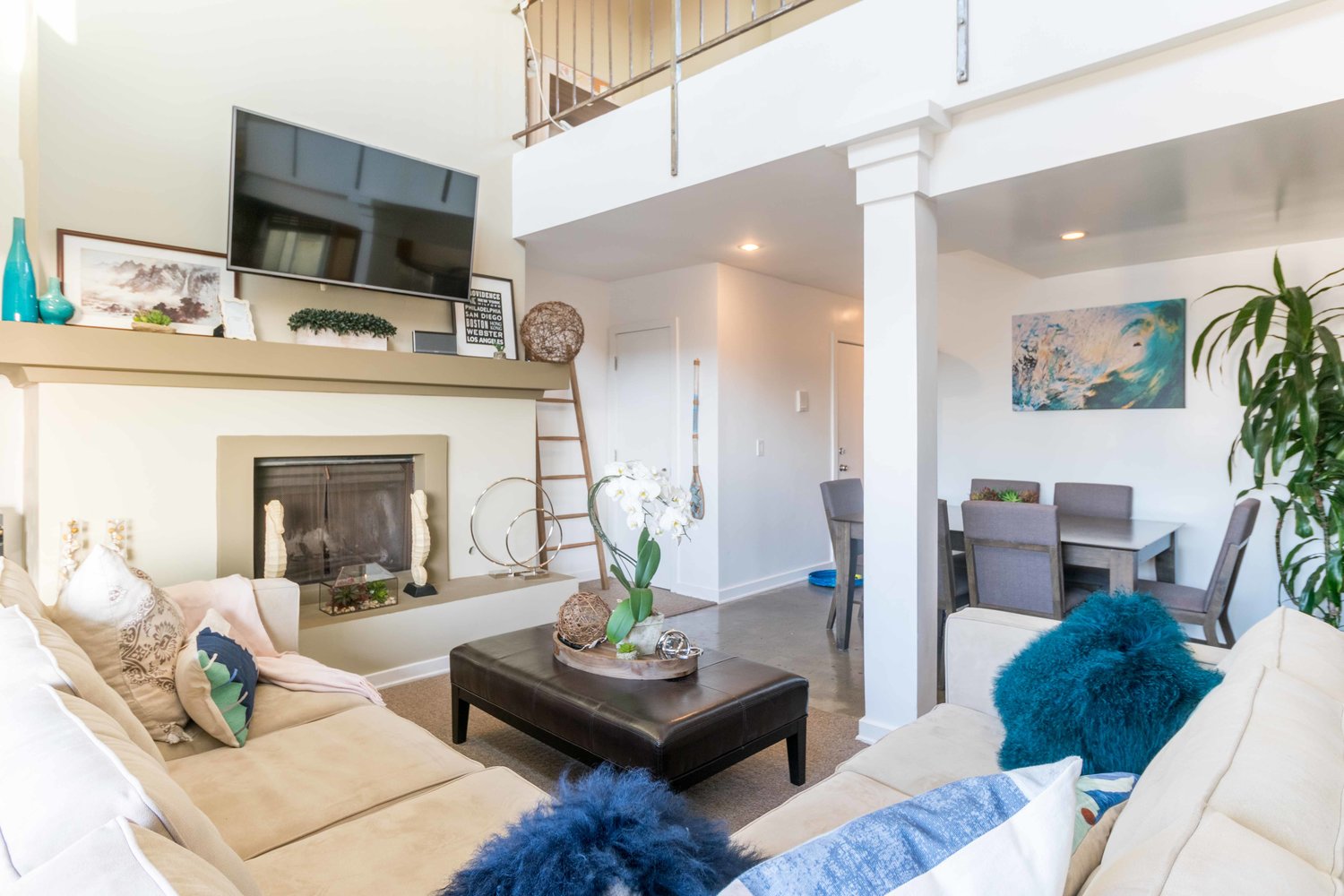 A 4K VIDEO TOUR THAT IS SEO OPTIMIZED ON YOUTUBE
SEO means search engine optimization. Check out the rankings we were able to get on one of our recent videos (the green number indicates the video's ranking on YouTube when searching that term). Since YouTube is the second largest search engine in the world, it is important to be sure your videos are properly optimized in order to show up in search results.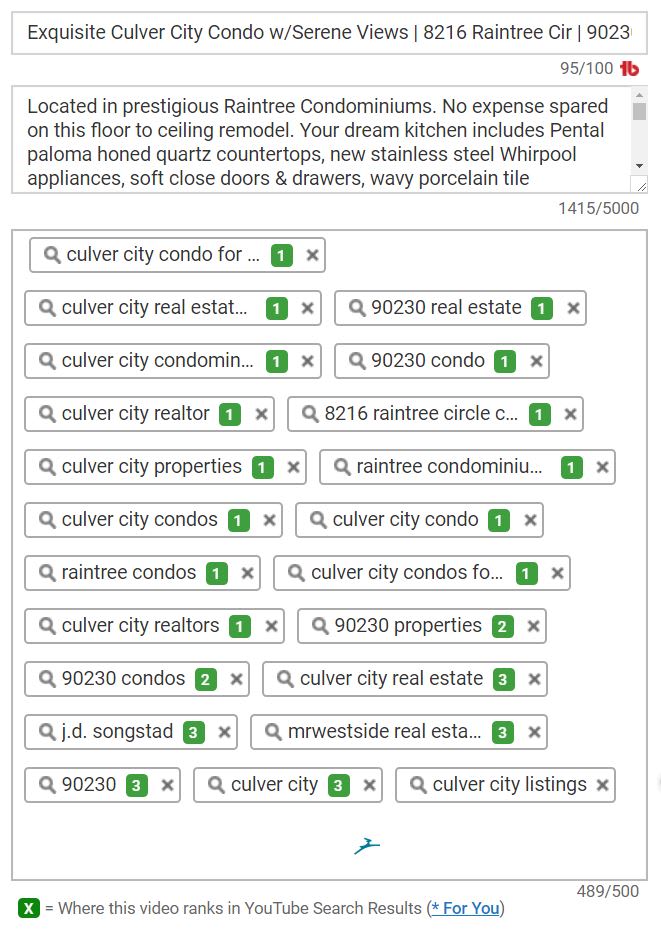 OUR BEAUTIFUL, USER-FRIENDLY WEBSITE
The biggest reason we're able to attract so much attention is that we can control the presentation of your listing on our website.
The MLS, listing portals, and most broker sites have a standard formatting layout. This prevents you from customizing the presentation to the way you want it to display.
On MrWestside.com, we're free to showcase your home in the best way possible, so that's exactly what we do!
FACEBOOK & INSTAGRAM MARKETING
How do we get Buyers to our website to see your listing? We employ several different strategies, but one huge source of traffic is Facebook & Instagram Ads.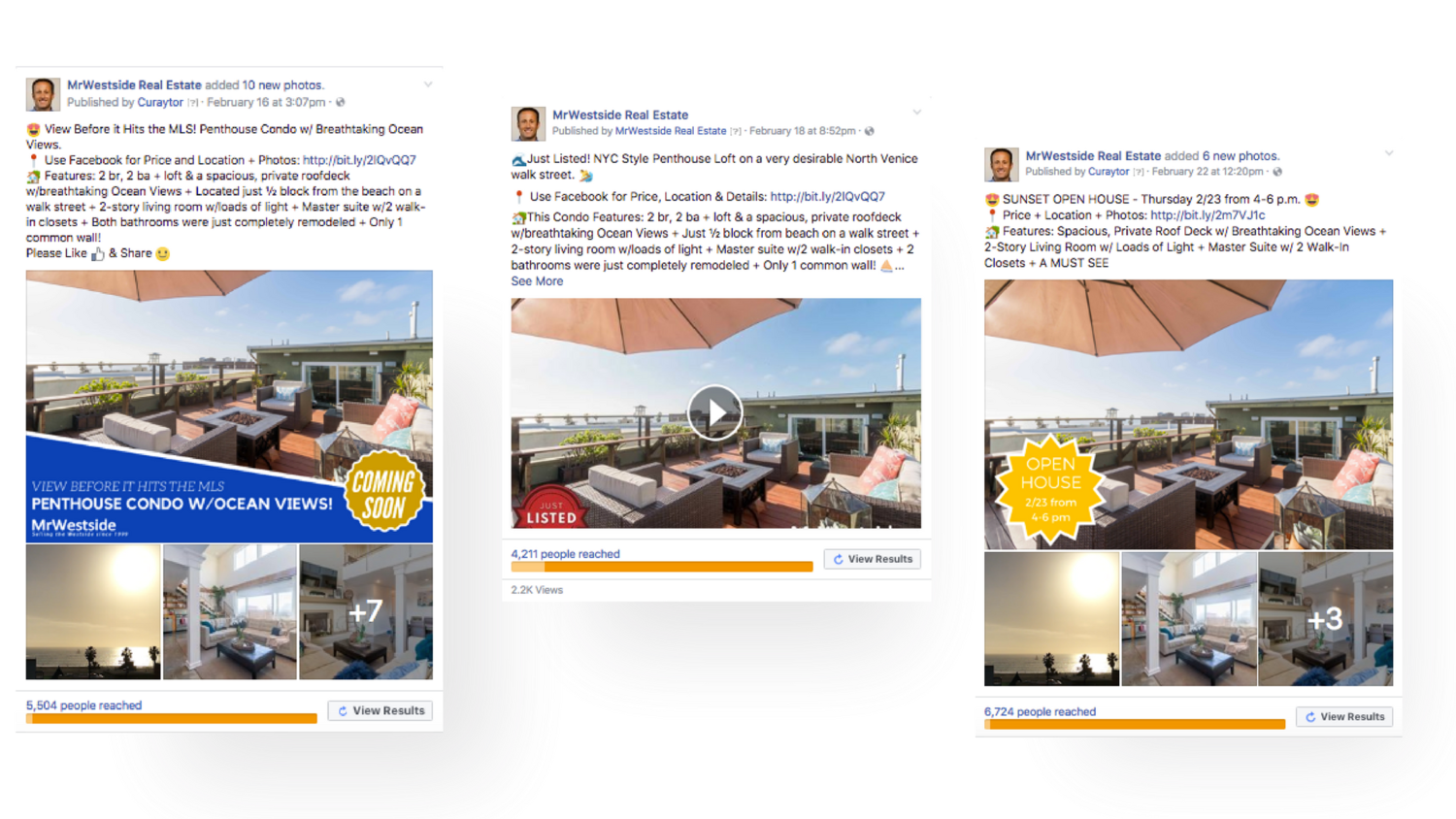 We understand people don't go to Facebook to buy a home. But we know for a fact that lots of Facebook visitors are potential homebuyers. After all, Facebook is the most popular social media site worldwide!
More than once, we've heard stories like: "We weren't looking to buy a home, but we saw your listing on Facebook and realized we had to have it".
EMAIL TO LOCAL REALTORS ANNOUNCING THE NEW LISTING
A new listing blast goes out to 8000+ local agents. In addition, for scheduled weekend open houses, there is a blast that goes out to 10,000+ local agents!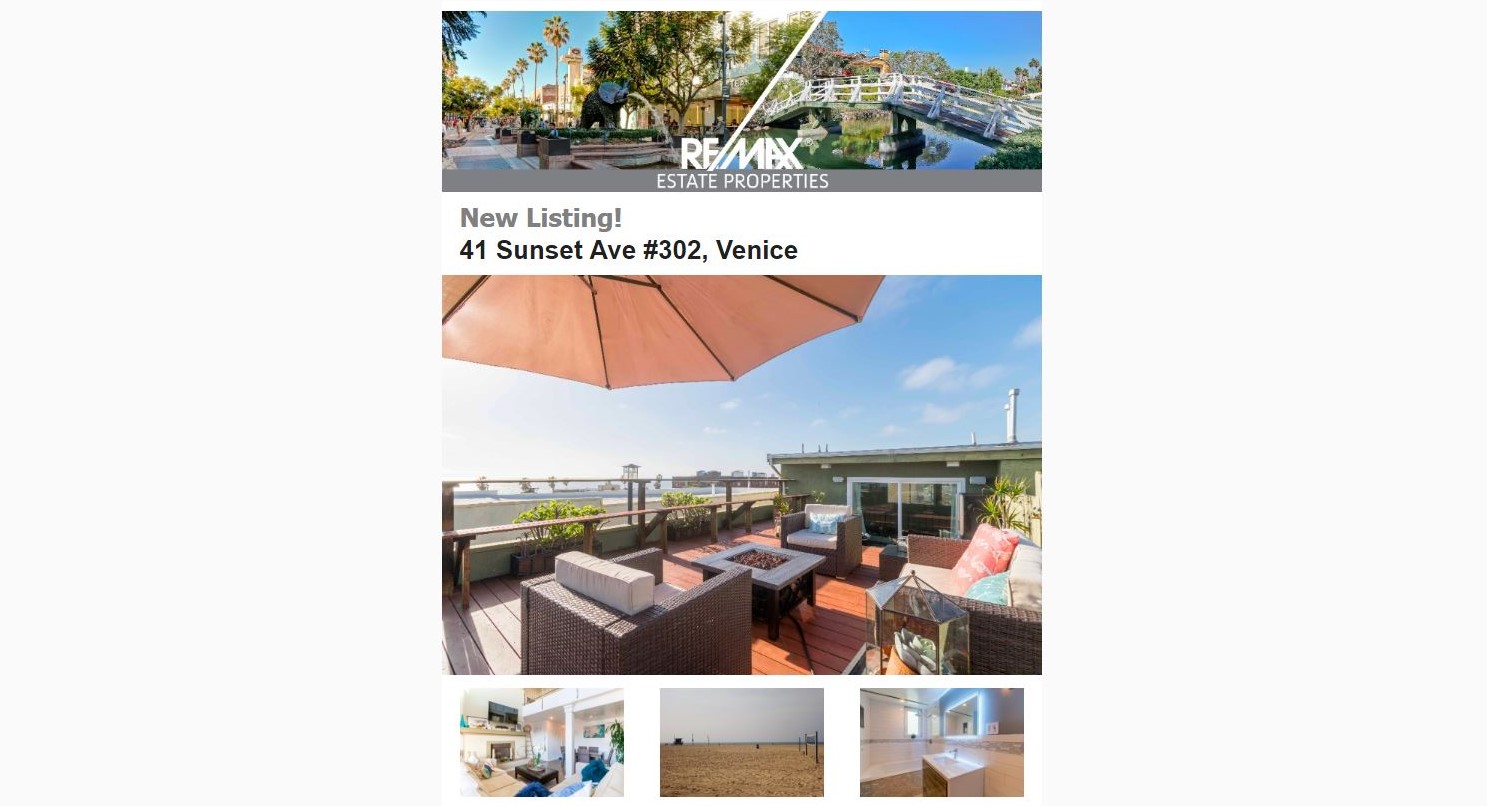 ADWERX CAMPAIGN ANNOUNCING THE LISTING TO OUR DATABASE OF 20,000 POTENTIAL WESTSIDE BUYERS
We expose your listing to our massive database by running online campaigns to get the listing in front of these contacts who already know us. This campaign produces a minimum of 4500 impressions per week. Your listing will be featured online where people spend their time - sites like CNN, YouTube, and hundreds more. These ads appear on about 97% of the web.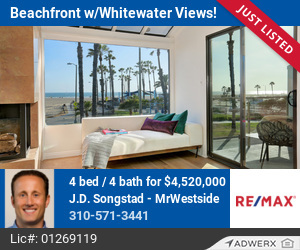 WE PULL A LIST OF BUYERS CURRENTLY LOOKING AT SIMILAR HOMES
With just a few clicks, we are able to pull up a list of buyers actively searching on our website for a home like yours and email the new listing announcement to them. Ask me to show you a list of buyers currently searching our website for a home similar to yours!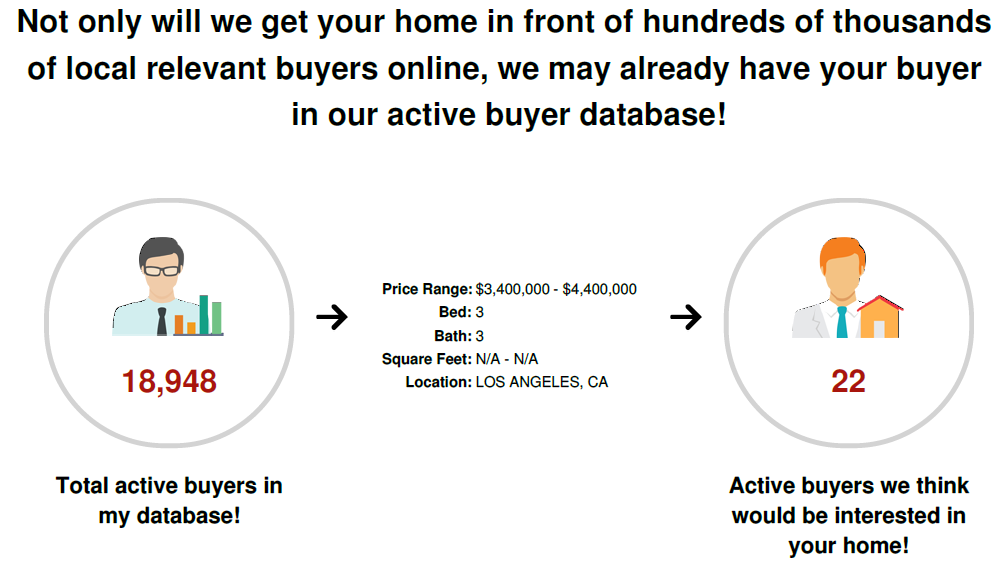 THE MARKETING LISTED ABOVE CONTAINS THE MARKETING STRATEGIES THAT WE FEEL HAVE THE BIGGEST IMPACT ON GETTING YOU THE BEST PRICE FOR YOUR HOME
But there is lots of additional marketing that we do for our listings - see below:
Inputting the listing into the MLS (multiple listing system).
Installing a for sale sign with lights in front of the home.
Adding a scan QR code for more info sign rider below the for sale sign (so anyone driving by can quickly & easily get info about the home and also view the photos & video).
Reverse prospecting is done thru the MLS, which involves emailing other Realtors with clients who have a saved MLS search looking for a home like yours.
RE/MAX is the largest real estate company in the world. It is in the most countries & also has the most offices, which helps your home get great international exposure.
RE/MAX Estate Properties is the local franchise we work under and it's the 4th largest RE/MAX brokerage in the USA and has numerous offices from the Westside to the South Bay & Palos Verdes Peninsula. When the new listing launches, there is a special inner-office announcement that goes to all 700+ agents announcing the new listing.
Coming soon/off-market listings can no longer be advertised for more than a total of 24 hours due to new MLS rules that started in 2020, but a coming soon listing/off-market is allowed to be promoted within the same brokerage as soon as a listing contract is signed. Since RE/MAX Estate Properties has so many agents, this can sometimes produce a great buyer for the home before it officially hits the market!
There will be a custom home webpage for the home on our website that will feature: the written description of the home, photos of the home, a video walk-thru, a 3D tour, a floor plan, a neighborhood report, & a map showing the home's location. Example: www.MrWestside.com/BeverlyGlen
We will do additional Social Media Marketing for the home on LinkedIn, Instagram, Twitter, & TikTok.
The listing will be posted on the RE/MAX Estate Properties Facebook Page & also on 2 Local Realtor Facebook Groups.
It will be posted on Facebook Marketplace, NextDoor, Craigslist, & Reddit.
Our listing launch is a rapid launch. We are able to get the photos & video processed very quickly, so the listing will hit the market shortly after the listing contract is signed.
Open Houses (both Sunday as well as on Tuesday for brokers) with 8 open house signs plus flags posted for the open houses.
Luxury marketing - listings priced over $2 million qualify to be listed on the RE/MAX Collection, a luxury homes website, which helps expose the home to more high-end buyers. Elite Global Advertising: We will showcase your listing in Wall Street Journal, Robb Report, DuPont Registry, Unique Homes, Mansion Global, plus over 100 international ads, and more.
Additional customization of our marketing plan is available upon request.
Our spectacular marketing helps your home get maximum exposure very quickly which helps create a lot of traffic (both online & home viewings) and excitement. This, combined with beautiful visuals showcasing the home, helps us get you the highest possible price for your home. We often see buyers race to submit very strong offers before the first open house because when buyers find your home & fall in love with it, they realize that the home is already showing up everywhere online, and they want to snatch it up before someone else can.
CHECK OUT OUR STELLAR CLIENT REVIEWS
We take great pride in delivering a high level of service to our clients that not only meets their expectations but exceeds those expectations. But don't just take our word for it, read what our clients have to say in their own words.